(Note: this post is in "wiki mode" and can be edited)
---
The Web3 UX Unconf was put together by Derek Chiang @derek of Thunder Token and Dan Tsui of Kyokan. The brief / working document was shared by them ahead of time and they reached out / recruited people ahead of time with a web form and direct intros. Many people heard about the event last minute while in Toronto and ended up attending. Please use this to collect links, notes, and other facts of interest.
Have a lot of personal things to say? Write a forum post here or external article, and add the link to the Follow Up Posts section at the end.
---
Abstract
from the brief
Web3 is facing major UX challenges. To list a few:
DApps are slow and expensive.
Users are getting hacked, phished, and confused.
Wallets and dapp browsers are struggling to support all the new sidechains, plasma, and state channels.
Developers are overwhelmed by support requests.
Let's sit down and fix this. We invite developers and designers of wallets, dapp browsers, and blockchains to join us. The unconf consists of presentations and unstructured discussions.
We hope that by having everyone in the same room, we will be able to have productive conversations and work on important issues together as a community, both during the unconf and afterwards.
Sponsors
Derek & Dan and the sponsors should be thanked profusule. They rented the venue, provided catering for all meals, and had projectors and live streaming set up.
Stable Fund by L4 Ventures
Kyokan

Thunder Token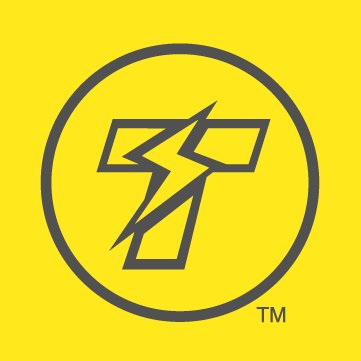 Attendees
Cut / paste from the original Google Doc. Feel free to add links to your company or project, any other additional links and please do add yourself – and please include your local forum handle if you have an account!
Panashe Mahachi (L4)
Dan Finlay (MetaMask) @ danfinlay
Dan Tsui (Kyokan)
Tom Creighton (Reactive Arts)
Richard Burton (balance.io) @ ricburton
Sid Coelho-Prabhu (Toshi / Coinbase) @ sid-toshi
Stefan George (Gnosis)
Martin Holst Swende (Ethereum Foundation) @ holiman (remote participant)
C. Jordan Muir (Frame) @jordan (remote participant)
Daniel Ternyak (MyCrypto)
Viktor Radchenko (Trust Wallet)
Fredrik Harrysson (Parity)
Philip Lucsok (Parity)
Andy Tudhope (status.im) @ andytudhope
Jeremy Welch (Casa)
Robin Clart (OmiseGO)
Thibault Denizet (OmiseGO)
Derek Chiang (Thunder Token) @ derek
Alex Van de Sande (Ethereum Foundation) @ alexvandesande
Luis Cuende (Aragon)
Alex Komarov (Minimum Inc.)
William Dias (modular.network)
Ligi (Ethereum Foundation) @ ligi
Mia Alexander (MyCrypto)
Peter Jihoon Kim (Cipher)
Will O'Beirne (MyCrypto)
Maciej Hirsz (Parity)
Don Ho (Quantstamp)
Danny Skubak (MyCrypto)
Anna Rose (Zero Knowledge Podcast)
Lane Rettig (CryptoNYC) @lrettig
Zac Morris (vault.io)
Michael Sena (uPort) @ michaelsena
Cassandra Shi (Ethereum Community Fund)
Beltran Berrocal (independent + ENS) @lyricalpolymath
John Egan (vault.io)
Daniel Bar (Tenzorum)
Jonny Howle (uPort) @ jonnyhowle
Yiseul Cho (Perceptra)
Thomas Jay Rush (Quickblocks) @ tjayrush
Ed Mazurek (Quickblocks) @wildmolasses
Niraj Pant (Polychain Capital)
Philippe Castonguay (independent) @ PhABC
Kelvin Fichter (OmiseGO)
Kasima Tharnpipitchai (OmiseGO)
Jack Huang (MyEtherWallet)
Rouven Heck (uPort) @rouven
Boris Mann (Frontier Foundry) @boris
Bryant Eisenbach (DappDevs, SecurEth) @fubuloubu
add yourself!
Agenda
cut / paste from brief, so won't be quite in sync with what actually happened. Edit away! Also please add links to your presentation or other links of interest, and ideally we can link in live stream video captures too
9:00 - Venue opens
9:20 - Opening remark
9:30 - Tom Creighton – UX lessons from successful startups
10:00 - Dan Finlay – MetaMask's new UI
10:30 - Daniel Ternyak – Tools and strategies MyCrypto has developed while revamping the wallet interface
11:00 - Richard Burton – WalletConnect: connect to web-based dapps from the phone
11:30 - Lunch
12:30 - Alex Van de Sande – Universal logins for Ethereum
13:00 - Philippe Castonguay + Panashe Mahachi – Smart Accounts
13:30 - Viktor Radchenko – What I learned from building Trust
14:00 - Sid Coelho-Prabhu – Toshi
14:30 - Andy Tudhope – Thoughts about UX at Status and what we have been up to
15:00 - Beltran Berrocal – Web3 Design Principles
15:30 - Lane Rettig – Towards an open data marketplace
16:00 - Martin Holst Swende – The new Ethereum signer
16:30 - Maciej Hirsz – Parity Signer
17:00 - C. Jordan Muir – Frame, a cross-platform Ethereum provider
17:30 - Dinner
18:30 - Michael Sena – Privacy Preserving User Identity Systems for Ethereum dApps
19:00 - Jeremy Welch – Casa/Multisig/Multilocation
19:30 - Luis – Radspec: a safe alternative to Ethereum's natspec to make transactions human-readable
A dozen or so of us went along to @ricburton's Balance meetup at the Queen & Beaver Pub afterwards.
Social Media Bites
Discourse will automatically expand individual tweets if there are ones you want to highlight – just paste in the link on its own line
Thread Reader App version of Boris' live tweets from the event by @boris
Tweet feeds:
https://twitter.com/hashtag/web3uxunconf?f=tweets&vertical=default
https://twitter.com/hashtag/uxunconf?f=tweets&vertical=default
https://twitter.com/hashtag/walletconf?f=tweets&vertical=default
Lyricalpolymath: "ethereum is entering it's design era"
referencing Chris Remus's twitter poll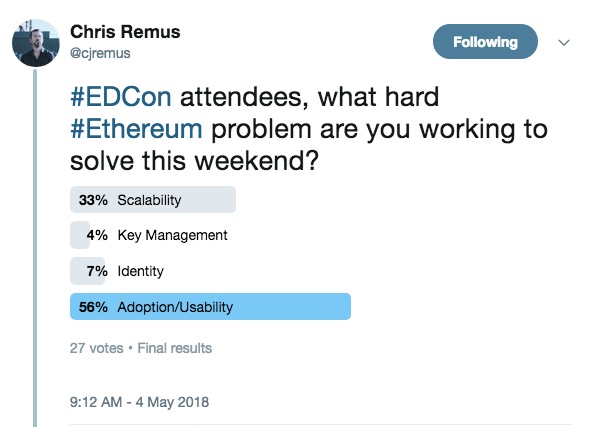 Follow Up Posts
Have a blog / forum post or other long-form reflection on the event? Add the link here
awesome post recapping the event goes here