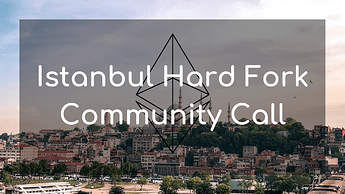 Istanbul Hard Fork is about to happen. Magicians decided to call it out and invite Ethereum Cat Herders and Community to join the community call about Istanbul Hard Fork.
We would like to let the community know how Istanbul Hard Fork will affect the Ethereum ecosystem. Let the community ask questions and chat about Hard forks that happened in the past.
Date and Time
DATE: Wednesday 4th of December
TIME : 2pm UTC
Location
Zoom: Available only to hosts
Agenda:
Welcome
intro into Hard Forks - what are they, effects of HF on the ecosystem … (briefly)
Previous HF - briefly recap the HF that happened and how they affected & changed the ecosystem
Istanbul HF - what EIPs are included (mention EIP-1884), how this update will affect the ecosystem, what changes it will bring
Post your questions to this thread, they will be most likely answered on a call.