Hello fellow Eth Magicians

We are going to host day session in Denver around ETH Denver
This session is focused to bring together EIP editors, EIP authors, contributor or adopter of any EIP/ERC.
Session details:
Date: March 2nd
Time: 10am → 1pm
Address: Denver Rino - full address available on Eventbrite
Tickets: Available on Eventbrite - more will be released prior the event. Limited capacity - first come first serve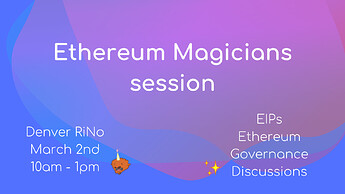 Schedule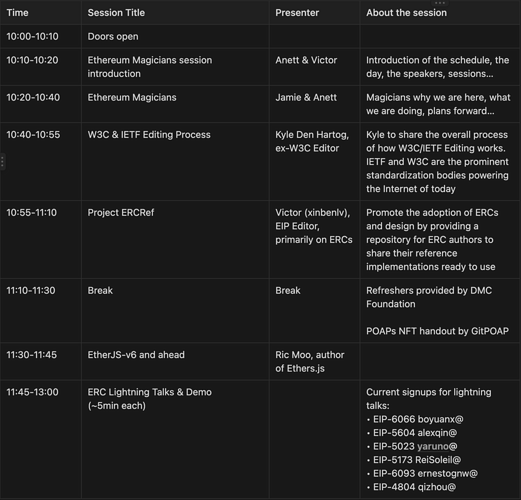 Ping to confirm the slot @boyuanx @AlexQin @yaruno @ReiSoleil @ernestognw @qizhou → please respond to this thread to confirm or reach out to @xinbenlv / @anett to confirm.
POAPs will be distributed by GitPOAP friends
Refreshments (coffee, snacks) will be provided by DMC friends
Thank you to @xinbenlv for co-hosting this event with us!
The event will be held in person only, remote participation is not available due to administration constraints
This post is subjected to be updated or changed over time