@gcolvin @Anlan @bitsbetrippin,
It is now quite apparent that ASICs will dominate the network within the next few months. The recent rise in hash rate can be contributed to the A11 Innosilicon miner that started shipping last year and now the Linzhi Phoenix Miner is shipping in January. These miners are over 46% more efficient than the latest 3000 series Nvidia GPUs and represents a major centralization security risk.
At the ACD#82 meeting it was decided to roll out EIP-1057 to testnet and be ready for implementation if needed and keep it in the "back pocket if ASICs become a concern." In light of the new extremely efficient ASICs being rolled out, we now need to take action immediately. The longer we wait the more ASIC miners get sold, the higher risk to network security, and the more people who will be hurt if they buy them and then there is an algo change.
I have requested EIP-1057 implementation discussion to be added to the next ACD #105 meeting agenda on 2/2/2021 here: https://github.com/ethereum/pm/issues/241
Here are the hard facts on ASICs as of now compared to GPU mining
Efficiency
Best GPU miner - 3060TI 62MH@130W - Efficiency = 0.47 GH/W
Linzhi Phoenix ASIC miner 2600MH@3000W Efficiency = 0.87 GH/W
Innosilicon A11 8GB 2000MH@2300W Efficiency = 0.87 GH/W
ASIC Power Efficiency Advantage = 46% more efficient
Cost
42x3060TI@ 62MH = 2604MH
42x3060TI@ $550 = $23,000
42x3060TI@ 130W = 5,460W
Linzhi Phoenix ASIC $12,900 + 25% tariff if US
Innosilicon A11 ASIC $15,500 +25% tariff if US
A GPU miner would have buy 42x3060Tis at $10K more to achieve the same hash. However as captured above in efficiency, electricity costs would be double. Ethereum network is now on a ticking time bomb of when not if ASICs will take over.
My comparison does not take into account additional costs of running 42 GPUS, from MBs to PSUs, RAM, CPUs etc. Most of us are using 8-13 GPUs per rig so this would be at least 5 rigs. Then there is the work it takes to set them up and maintain them versus plugging in a single ASIC and PSU.
ASIC Purchase Cost Advantage = 44% lower purchase cost
When ProgPow was being discussed Linzhi published this paper against ProgPow all the while they were developing and probably already making next gen ETHash ASIC miners. Time has a way of revealing ones intentions. https://linzhi.io/docs/LWP15-Posts-Against-ProgPoW-05092019.pdf
Linzhi Phoenix ASIC miner 2600MH@3000W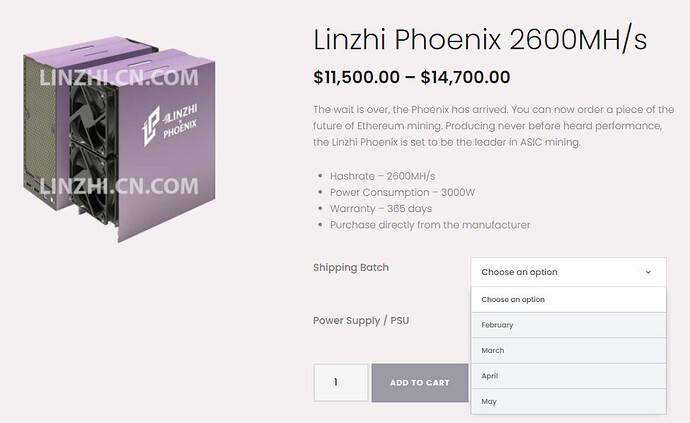 Innosilicon A11 8GB 2000MH@2300W