The precompile RIPEMD-160 has been called 1,317 times since Ethereum's inception, and blake2f has been called 1,228 times since its go-live as part of the Istanbul hard fork on December 7 2019 (block number 9,069,000).
I would like to propose an EIP to remove these two precompiles, as these two precompiles have not found real-world traction and the EVM should be optimised for simplicity and not carry along too many technical debt. Prior to doing so, I would like to hear what arguments there might be against such a removal. As an important note, zcash has changed their cryptography in the meantime to not (or plan to not) even use BLAKE2b anymore if I understand correcty (using mostly BLAKE2s and planning to use BLAKE3).
PS: I've tweeted about this here.
EDIT 1: Based on more accurate data provided by @thevaizman (thanks a lot again!), we have the following number of calls: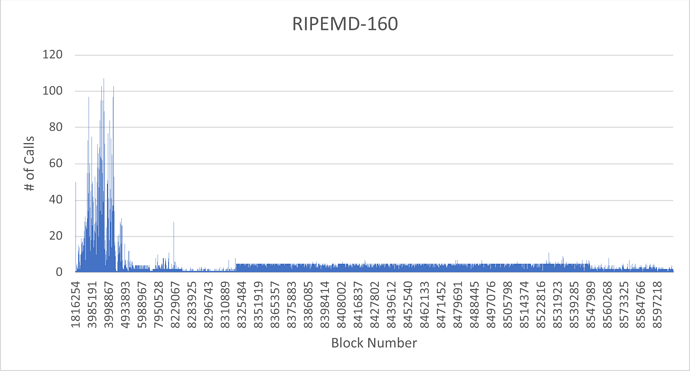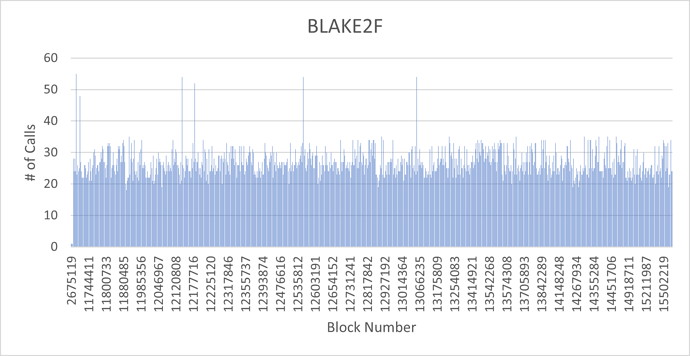 EDIT 2: My EIP-7266 PR on Remove blake2f (0x09) Precompile can be found here and the merged draft version on the EIP website here.