Token Metadata can be incredibly meaningful, how do we make sure everyone is able to make use of it?
With the increasing popularity of NFTs and use of ERC-721 tokens as well as the adoption of the Ethereum Blockchain for a variety of use cases, we are presented with a unique opportunity to learn an incredible amount of the token movements and use cases through its metadata. This is not the only benefit we have, we can start thinking about composability as well since development can be sped up and optimized if Smart Contracts and Tokens use previously defined compatible standards. With this idea in mind we can set up the building blocks for a myriad of complex scenarios moving forward.
However, metadata is optional and as such, millions of tokens could be addressing similar use cases (with similar metadata) but not become immediately apparent. In order to easily and cost-efficiently draw meaningful conclusions from this metadata, I would argue that it is in the best interest of the community to standardize how certain pieces of metadata are structured in the tokens. For example: I want to include location metadata to a token in the following format: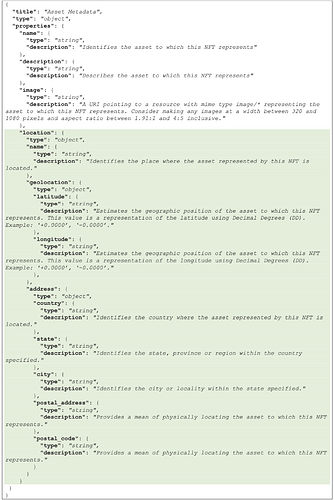 Note: this is what the ERC-721 token Metadata JSON would look like after adding the location metadata in the particular proposed format.
The idea is to turn this into an EIP and set a precedent for future Metadata Standards, this way anyone adding metadata to their ERC-721 tokens has access to robust guidelines which they can follow in order to make their use cases tidier and benefit the community as a whole. As part of the Blockchain division at EY (Ernst & Young), we're working on products and services promoting transparency across business partners, traceability for tokenized assets, and trust in technology by showing token information in a way that is responsive to the metadata associated with that token. We're looking for input from the community to determine what information is most important to help make this EIP happen so we can collaborate and build together solutions that would positively impact developers and help towards the widespread adoption of Ethereum and Blockchain as a technology.